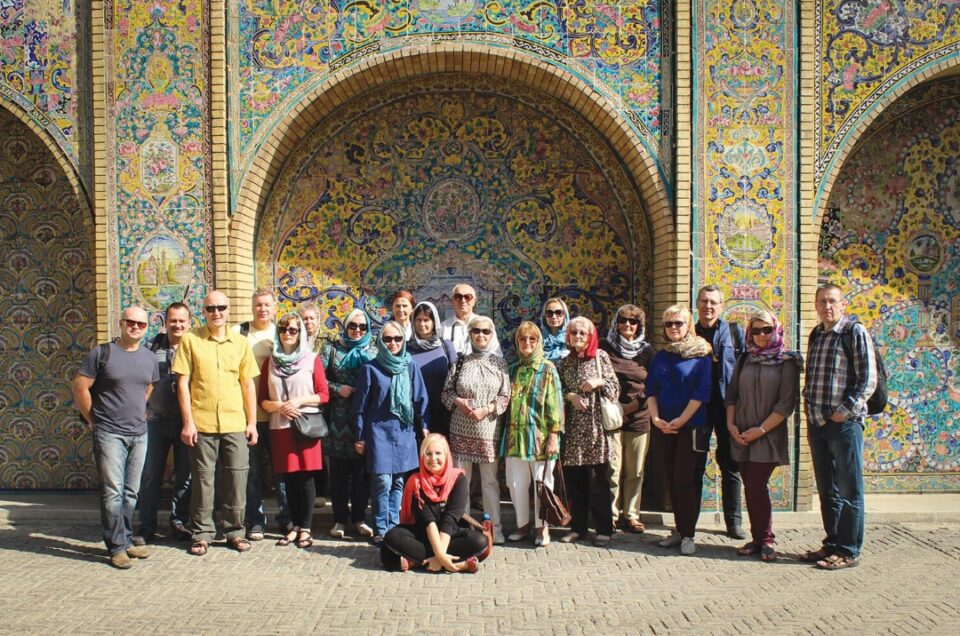 When to visit Iran
Iran is a basket of flavors, colors, and traditions. Lose yourself in the country's many natural, historical and otherworldly attractions.
Get your 30-day tourist visa in just 3 days and arrive in the country at your convenience. Explore each city on your own terms, or choose an Iran tour that covers exactly what you want. Book your bus tickets in advance so you can plan out each day.
Relax in traditional hotels that take you back centuries and feel like a second home. Book your flight online and save time and energy while sightseeing. Travel to Iran with the best travel and safety standards. Voyage through some of the world's most exciting and ancient destinations knowing you're just a phone call or text away from accommodating support.
Whether it is a last-minute change of plans, late-night escapades into the city or even medical emergencies, we have you covered around the clock. If you're looking for a tour to Iran, you've come to the right place. With over one hundred different day-tours, activities, workshops & experiences, you can choose your own adventure and take control of your vacation. There is no end to the possibilities.
Feeling overwhelmed about Iran tourism?
We'll handle everything with our all-inclusive Iran tour packages. We take the time to get to know your exact tastes, budget, and timeline.
Then, we put together a completely customized Iran package just for you. From the visa & insurance, all the way down to transportation, tours, and hotels, our expert support staff will make it all a breeze.
Here in our journal we will make you familiar with Iran and give you a lot of information and you can decide to choose Iran or not.
Come along with us. In order to experience the evolution of civilization you do not need a time machine.
If you choose our tour packages, you certainly will visit the most important historical and cultural parts of Iran and modern part of cities.
You will visit the civilization via traveling to Chogha zanbil, Susa, Shushtar, Bishabur, Shiraz, Pasargadae, Persepolis, Yazd, Isfahan, and Mashhad.
We suggest you to check Iran weather in this blog and choose your favorite trip to Iran.
Why do you need a travel agency anyway?
You really do not. You can buy your own flights, book your hotel off 3rd party websites, and Google basically everything else when you land.
Budgeting 100 USD a day should be more than enough (covers accommodation, transport, food, entrance tickets, shopping).
Taxis and buses are common in urban centers and you can find almost all attractions and how to reach them on Google Maps.
But Iran is a gigantic untapped country with thousands of years of history. It's in the top 20 biggest countries, bigger than Egypt, Turkey and even Germany.
It has got 10 urban areas, 26 UNESCO World Heritage sites and a millions of different hidden gems in between. You probably have only 7-14 days to visit, experience and feel it all that you can not, and really shouldn't.
Are you looking for the best time to visit Iran?
Come along with us and we will help you to become more familiar with Iran.
Iran Month by Month
* March, April and May are high season in Iran, with gorgeous temperatures for sightseeing – but also higher prices, especially in April.
You might be able to get a better deal in early June.
* The ancient festival of Nowruz celebrates the Persian New Year, coming of the spring.
It is the biggest event in the Iranian calendar. It usually starts from 20th/21st  March for around two weeks.
This is a busy, expensive and chaotic time in Iran with many places closed for the celebrations, so unless you're coming with the intention of joining in.
It is advisable to travel to Iran in Nowruz to feel the beauties of the New Year.
1- Late November, December, January and February are bitterly cold – especially in the mountains of the north and west. July and August are boiling, with temperatures often into the 40s.
This is doubly unpleasant as shorts and t-shirts are a no-no, and women must wear headscarves.
2- Ramadan is a month-long event in the Islamic calendar which shifts around slightly each year.
In 2018 it begins on 15th May and in 2019 on the 5th May.
During Ramadan, it is forbidden to eat or drink in public between sunrise and sunset – although some restaurants may discreetly serve foreign tourists, and you can eat in private or in vehicles.
After dark, be prepared for feasting.
3-September and October are also pleasant months to travel in Iran, and prices may well be slightly lower than in the spring.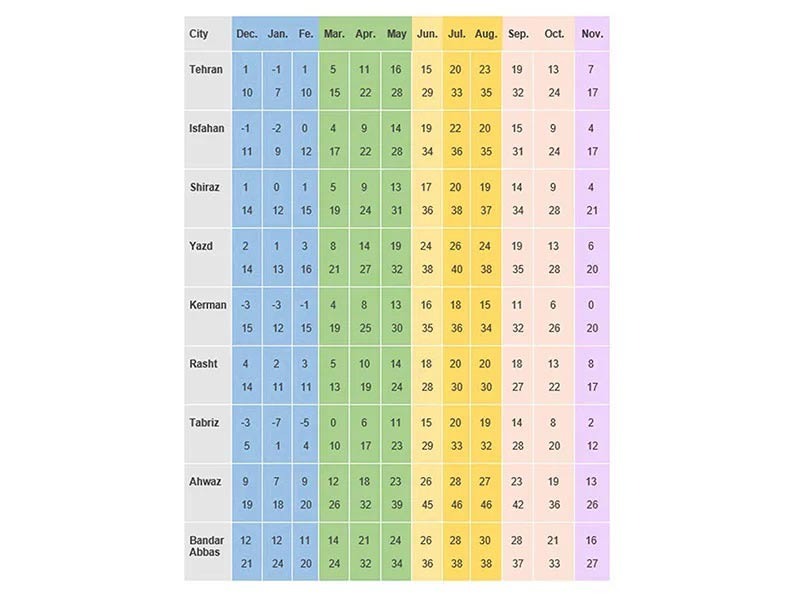 * Be aware that Friday is the day of rest, and that Thursday and Friday are the weekend in Iran. Saturday and Sunday are normal working days.
Iran weather
The best time to visit Iran
When is the best time to visit Iran? Well, Iran is a four-season country offering a wide range of climatic conditions in every corner of the country.
You may hear that generally speaking, spring and fall are the best seasons.
However, it mainly depends on the purpose of traveling and types of Iran tours you have chosen.
To consult us about tours to Iran, please do not hesitate to send an email to info@sinargasht.com Stay with us to know more about Iran weather and the best time to visit Iran.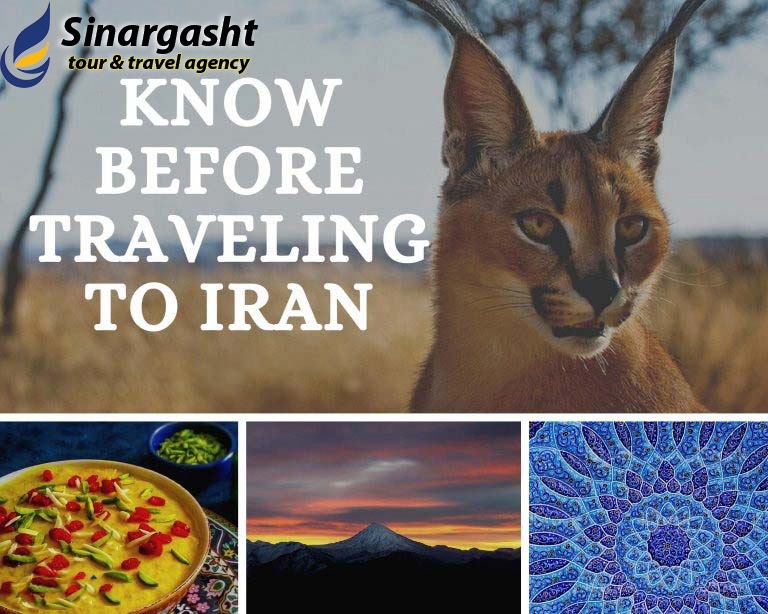 Lovely and mild spring
Generally, spring is the best season for traveling to any destination.
Traveling to Iran is not an exception.
From March until May is considered high season in Iran. Ideal temperature, pleasant fresh weather, and also long day hours make this season a perfect one for traveling.
This time of the year is especially recommended if you aim to reserve a classic and cultural tour to Iran ( Glance of Persia) and Gorgeous Iran because most cultural sites are located in the central parts of Iran, Tehran, Isfahan, Yazd and Shiraz are normally included in this type of tour.
The best time to visit Iran is spring.
Besides that, it is interesting to know that from 21 March to 3 April is Nowruz (Iranian New Year) holiday in Iran and you will experience light crowds, plenty of tourists and cultural activities in Iran.
Higher prices are expected during this season as well.

Hot scorching summer
Summer days in Iran are quite hot and there are fewer travelers around.
Specially in the central parts of Iran, where two of the greatest Iran desert exists.
However, summer is the best time to travel to the northwest and west of Iran, where extremely cold winter and cool pleasant summer are normally experienced.
You can experience mountain climbing, trekking, and swimming in one of the most relaxing mineral hot springs in the northwest of Iran.
Prices are often lower due to the hot weather, but there are regions with cool weather and breathtaking landscapes.
So, traveling could still be a lot of fun; these including stunning waterfalls and rivers in Kurdistan province and Aras Baran forests in Azerbaijan province that let you experience some adventure and camping in nature.
You can try our nature tour.
Cool and pleasant fall
Cool breezes of fall, call for many tourists to come and visit Iran. There are again many cities all over the corners of the country where traveling will be an opportunity.
As the temperature turns cool by September, activities like trekking are normally demanded. Prices will be higher than summer but quite fair compare to the spring season.
Fall offers a desirable opportunity for all types of tours to Iran, ranging from cultural tours, mostly in the central parts of Iran to many adventure tours such as classic and cultural tour ( Glance of Persia and The Persian Legacy Tour ) hiking and trekking Tour.
Even bird watching, nature tour in some lagoons and biosphere reserves in Iran and Desert Tour.
Cold and chilly winter
Iran enjoys extremely cold winters nearly in all provinces.
However, there are still two good news for travelers;
first, the southern coastline of the Persian Gulf is almost an exception, by this we mean you can enjoy mild and pleasant water sports or simply spending time in the astonishingly beautiful Persian Gulf islands and enjoy our Persian Gulf island tour.
Second, winter in Iran offers an exceptional opportunity for ski lovers and we recommend you our skiing Tour. Being on a budget destination, high altitudes, and good quality powdery snow are three convincing reasons to choose Iran for your next ski destination.
Prices are quite low in winter and there are fewer crowds. Winter in Iran could be like heaven for many adventurers around the world.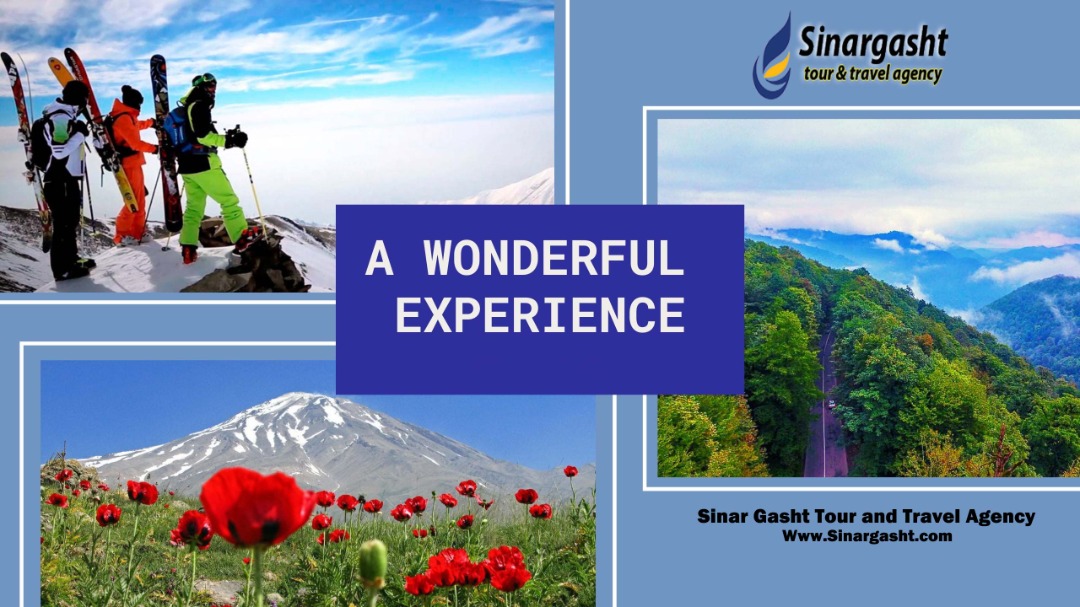 For more information about the best time for traveling to Iran and become more familiar with Iran , download our travel guide book.