Hair Transplant In Iran
In medical tourism services, you will experience high-quality treatment in our modern clinics and private hospitals with our board-certified and skillful… With advanced hair transplant techniques, short recovery periods, and best possible results, Iran ( Shiraz city ) stands out as a reliable hair transplant destination. If you're suffering from hair loss, it's time to feel and look your best with our all-inclusive hair transplant packages.
Hair transplant is a procedure in which a dermatological surgeon moves hair to a bald area of the head. The surgeon usually moves hair from the back or side of the head to the front or top of the head. Hair transplants typically occur in a medical office under local anesthesia.
According to the Cleveland Clinic, genetics accounts for the majority of alopecia (baldness) cases. The remaining cases are due to a variety of factors, including diet, stress, illness, and medications.
There are two types of transplant procedures: slit grafts and micro-grafts. Slit grafts contain 4 to 10 hairs per graft. Micro-grafts contain one or two hairs per graft, depending on the amount of coverage needed.
Receiving a hair transplant can improve your appearance and self-confidence. Good candidates for a hair transplant include:
• Men with male-pattern baldness
• Women with thinning hair
• Anyone who has lost some hair from a burn or scalp injury
Hair replacement is not a good option for:
• Women with a wide-spread pattern of hair loss throughout the scalp
• People who do not have enough "donor" hair sites from which to remove hair for transplant
• People who form keloid scars (thick, fibrous scars) after injury or surgery
• People whose hair loss is due to medication like chemotherapy
WHY HAIR TRANSPLANT IN IRAN?
Hair transplant in Iran is much in demand and this has enabled Iranian hair transplant surgeons to build on their experience and expertise in this procedure. Also, the highly affordable hair costs of hair transplant and other costs in Iran is a great reason to opt for the country instead of other destinations.
HAIR TRANSPLANT IN IRAN: ALL YOU NEED TO KNOW
No one can deny the inseparable relation between hair, beauty, and self-confidence. Your hair may start to fall for a variety of reasons as you get older, impacting your beauty and, in turn, your self-confidence. So, if you're looking for an affordable solution to your hair loss, here is a clear-cut path to getting your hair back again! And that's hair transplant in Iran.
WHY IS IRAN A GOOD DESTINATION FOR HAIR TRANSPLANT?
Hair transplant surgery is a common cosmetic procedure in Iran. With highly-experienced surgeons and modern hair transplant clinics, Iran offers foreign candidates a very safe experience of hair transplant.
The low cost of hair transplant in Iran serves as another motive, enticing candidates from all over the world to choose Iran as their destination. As is the case with lots of other cosmetic surgeries, the cost of hair transplant in Iran compared to other countries is considerably more reasonable.
Plus, the results of hair restoration in Iran are reported to bring a very high level of safety and satisfaction for patients. A study on the success rate of hair transplant in Iran indicates that this surgery offers a high rate of success with the least possible side effects. The study reveals that the satisfaction level of the transplanted hairline in 60% of patients was excellent and in 40% was good. So, it would be fair if we claim that Iran is a highly successful country in providing quality hair transplant services.
Why Sinar Gasht Tour and Travel Agency?
Arranging a hair transplant abroad will cause you some inconvenience, such as getting a visa, arranging for a hotel, city transfer, language barrier, and more. The SinarGasht tour and travel agency team is made up of dedicated and professional travel experts who will take care of you from the start to the end of your journey. Our travel experts who know every inch of the country will help you plan a memorable visit to Iran. We have built up a strong network of trusted local partners to ensure we can accommodate all your needs.
HOW MUCH DOES IT COST TO HAVE A HAIR TRANSPLANT IN IRAN? 
Like all other healthcare services, hair transplant in Iran is offered at rock-bottom prices compared to other countries. With less than $1000, you can have a full hair transplant at a modern clinic by a highly experienced doctor. For an all-inclusive hair transplant package that includes everything you need, including five-star hotel accommodations for 3 days, you would pay only $1290.
HAIR TRANSPLANT IN IRAN
Operation: 4 – 6 Hours
Anesthesia: Local
Healing: 10 – 14 Days
Clinic Stay: Not Needed
Total Stay: 4 Days
Back to Work: 7 Days
HAIR TRANSPLANT PRICE
| | |
| --- | --- |
| Procedures | Price (USD) |
| (FUE/FIT) Method 1000 hair strands | From $ 590 |
| (FUE/FIT) Method 2000 hair strands | From $ 640 |
| (FUE/FIT) Method 3000 hair strands | From $ 790 |
| (FUE/FIT) Method 4000 hair strands | From $ 890 |
| (FUE/FIT) Method 10000 hair strands | From $ 1900 |
| (FUE 2000 hair strands + FUT) Method | From $ 1100 |
| (FUE 3000 hair strands + FUT) Method | From $ 1200 |
| (FUE 4000 hair strands + FUT) Method | From $ 1300 |
WHAT WE OFFER
• Hair Transplant Procedure
Clinic and doctor visits, medical tests, hair transplant procedure in clinic, , post-operative care, medicines*, recovery, and follow-up
• Visa
In order to travel to Iran for tourist purposes you need an Iran Visa. A Tourist Visa to Iran is issued for foreign nationals who are interested to travel to Iran individually or with a group for the purpose of visiting Iran, or their friends and relatives based on the regulations of the Iranian Ministry of Foreign Affairs.
All the nationalities except Israel can apply for Iran Entry Visa.
All foreign visitors require a visa to enter Iran except citizens of the following countries: Bosnia-Herzegovina, the Former Yugoslav Republic of Macedonia, Saudi Arabia, Singapore, Slovenia and Turkey. Citizens of these countries can stay for up to 3 months without a visa.
For the special countries of America, Britain and Canada, the duration, the terms and conditions of Iran Visa collection is different.
Read more
• Pick-up & Transfer
Airport pick-up services, private transfer from hotel to clinic/hospital , Guide and vice versa
• Accommodations
3 nights stay in a three-star to five-star hotel offered which is preferably near the clinic
• Other Services
24-hour on-call assistance, interpreter, SIM card and internet , and driver guide
Note: The medicines and other aftercare items included in this package are the necessary items prescribed by the doctor.
Also, the clinics and/or hotels which are included in the package are offered by SinarGasht Travel Agency to the patient. There may be other clinics and/or hotels which the patients may consider and the price might be different.
After the procedure it is needed to use 3 to 6 months some medications and shampoo which are prescribed by the doctor and it is the patient responsibility to take care of them.
It is crucial to obey the instructions given by the clinic to take care of your hair. These include the way you sleep as well as washing the hair with shampoo with the detailed instructions. Avoiding the instructions just as said above might result in defects which are the patient's responsibility.
The appropriate method for your case will be diagnosed and offered by the doctor based on the visit in person and the parameters such as thickness of the hair strands.
The first visit will be with the doctor and the hair transplant procedure will be done by the operator under the doctor supervision. Based on a new policy of the Ministry of Foreign Affairs, the citizens of the USA, UK, and CANADA are included in different logistic services.
US, UK and Canadian can travel to Iran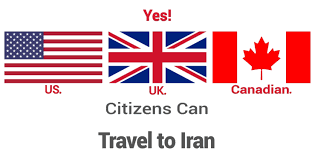 YOUR DETAILED SCHEDULE AFTER ARRIVAL IN IRAN
>> Day 1: 
Arrival at airport: you will be welcomed by our guide, then picked up and transferred to the hotel. Checking into hotel; Transfer from hotel to clinic; Visiting the doctor; Pre-op tests; Transfer from clinic to hotel.
 >> Day 2:      
Transfer from hotel to clinic; Preparations for procedure; Conversation between doctor & patient, reviewing the expectations; Performing of procedure; Taking doctor's instructions; Hair transplant area is bandaged if needed; Transfer to hotel.
                                                                            >> Day 3:                                                                                   
Transfer to clinic for bandage removal; Transfer from clinic to Inbound Persia Tour's office; having some rest at the hotel.
>> Day 4:        
Sinar Gasht gives patients special gift by showing some attractions of the city and excursion in the city
>> Day 5:        
Your travel finish and you will depart Iran, the land of warmth and hospitality with fond memories. We Transfer you from hotel to the airport and you leave Iran