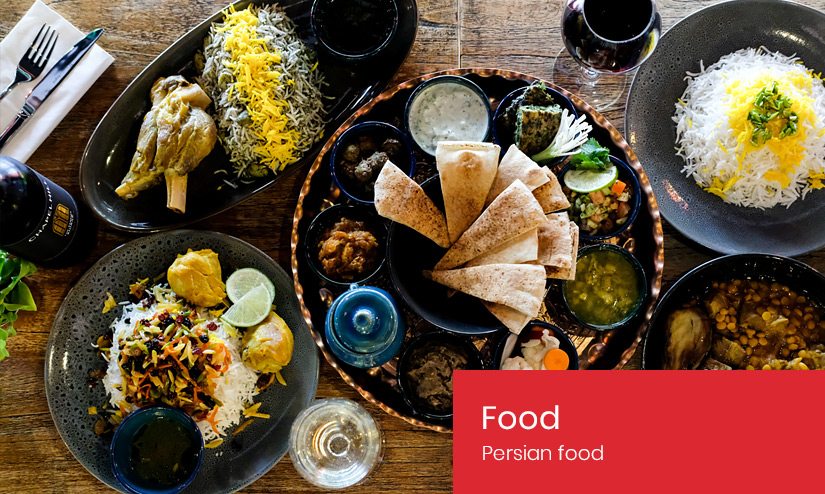 Iranian Food
Typical Iranian Food (Persian) main dishes are combinations of rice with meat, vegetables.
Nuts and herbs are frequently used along with fruits such as plum, quince
pomegranates ,prunes, apricots, raisins. typical Persian flavoring such
as saffron, dried lime, Turkic and parsley are mixed in various dishes.
In Iran is (khoresht) you will see different types of khoresht in all Iranian traditional menus.
Here are some of Stews:
1) khoresht-e gheimeh(Yellow split peas stew)
2) khoresht-e bademjan (Egg plant stew)
3) khoresht-e ghormeh sabzi(Herb stew)
4)khoresht-e aloo (Plum stew with saffron)
5) khoresht-e karafs (Celery stew)
6) khoresht-e ghalieh mahi(Fish & shrimp stew)
7) khoresht-e bamiyeh (Okra stew)
8) khoresht-e boz ghormeh(beef stew)
9) khoresht-e fesenjan( Pomegranate stew)
10) khoresht-e mast (Yogurt stew)

Iranian people know this stew as religious stew also because they mostly cook this stew in religious occasions.
The ingredients are yellow split peas ,lamb meat, tomato, onion and spices.
Many dishes in Iran are prepared with eggplant. 
khoresht-e bademjan is the most popular one.
The main ingredients are lamb meat ,fried eggplant ,onion, tomato sauce, spices .lemon is also added to this stew because Iranian people mostly prefer sour taste of all kind of stew.
Gormeh sanbi is the most favorite stew among all Persian stews.
The people cook it at least once a week as a lunch.
The ingredients are meat (lamb or veal), vegetable such as coriander ,parsley and spinach ,beans, Omani lemon )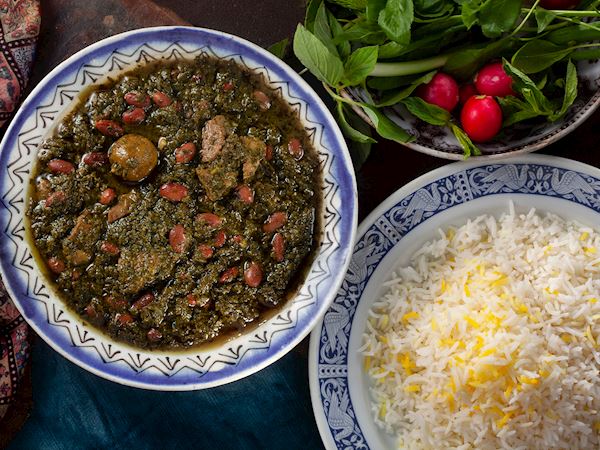 The ingredients are plum or
Chicken, saffron.
The taste is sour
Mostly added one spoon of sugar for sweet and sour taste . It Should be served with plain rice.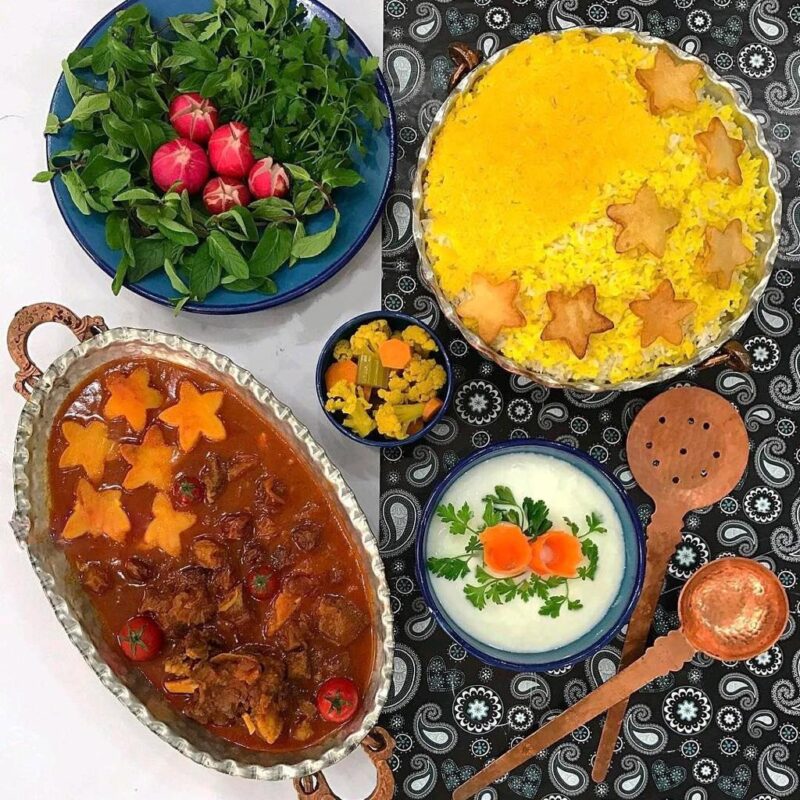 The ingredients of this healthy and delicious stew are fresh vegetable and celery. Cooked mostly with (lamb or veal) but without meat is also delicious. It is a good dish for vegetarians and vegans. Iranian people prefer to add fresh lemon juice because they like the taste a little bit sour.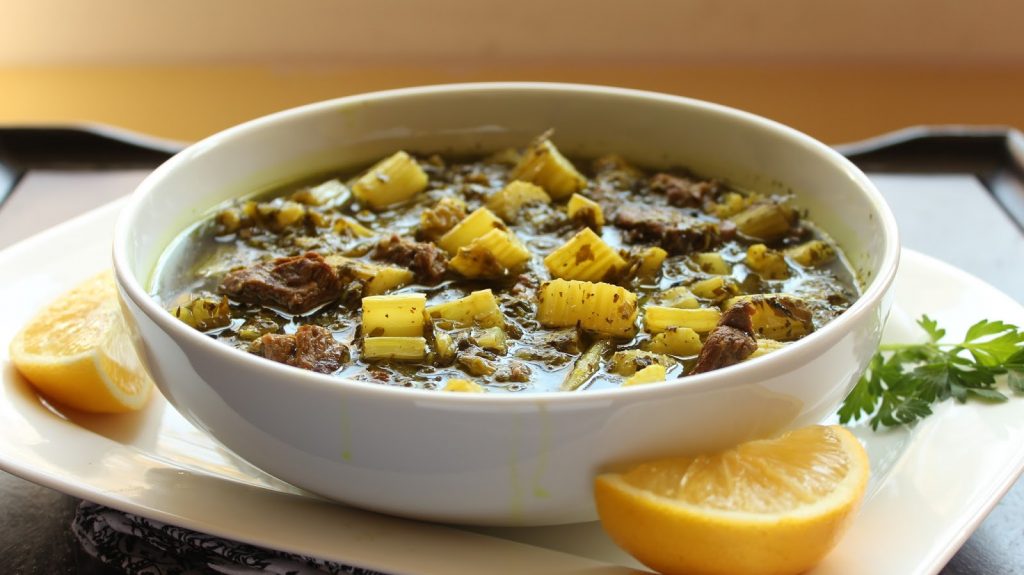 Is a delicious sour sea stew and you can cook it with shrimp. It's a special dish from south of Iran (Persian Gulf).
The ingredients are fish or shrimp, fresh vegetable, spices, tamarind paste, onion and chili spicy.
This delicious stew comes originally from Khuzestan province in southern Iran.
 The ingredients are lamb or beef, okra, onion, garlic, tomato paste, turmeric, pepper, salt , lemon juice or more than 4 tablespoons of ghoreh(un ripe sour grapes)Because this stew should be sour & spicy.
we serve it with plain rice.
It might be interesting to know that boz means goat and ghormeh means food that is cooked with meat.
This stew is served as an appetizer with bread.
The ingredients are : beef ,garbanzo beans, whey kashk( heavy yogurt)garlic cloves, saffron, turmeric. We design it with fried onion and walnut on top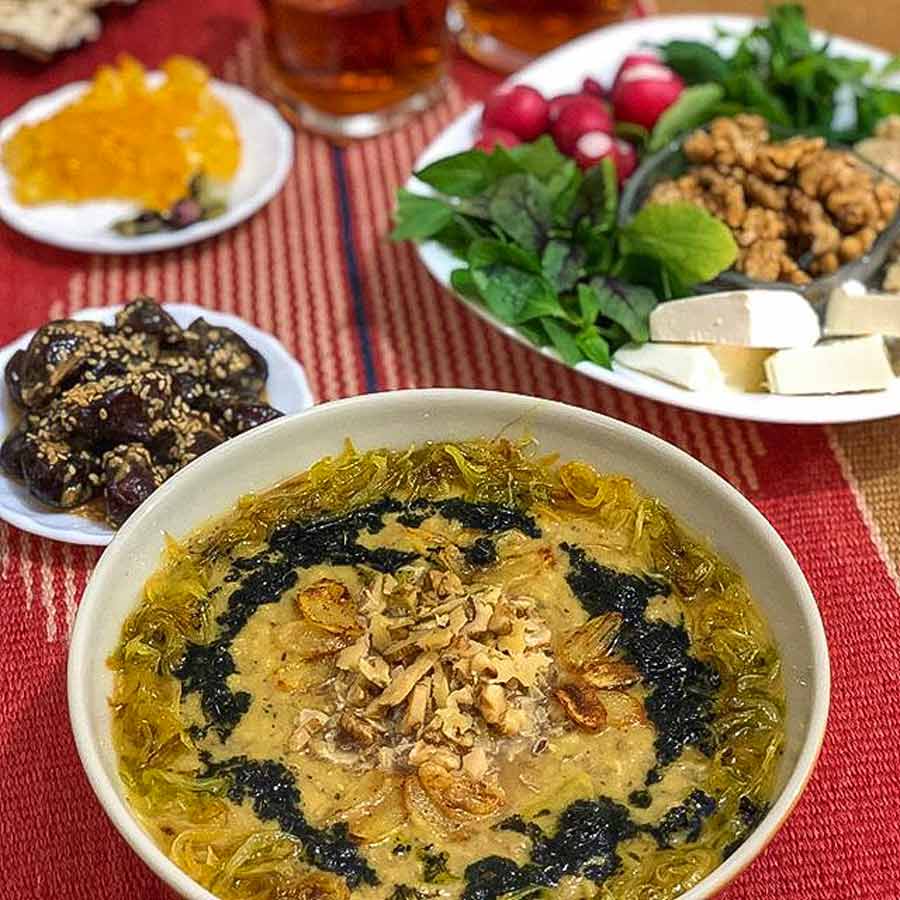 This delicious stew comes from Gilan province in Northern Iran but it is so popular in all parts of Iran.
The ingredients are chicken, (turkey in Northern Iran) Lamb, some times in meat balls, walnuts, sauce of pomegranate and also spices such as turmeric , cinnamon and cardamom. we design it with jeweled pomegranate seeds on top.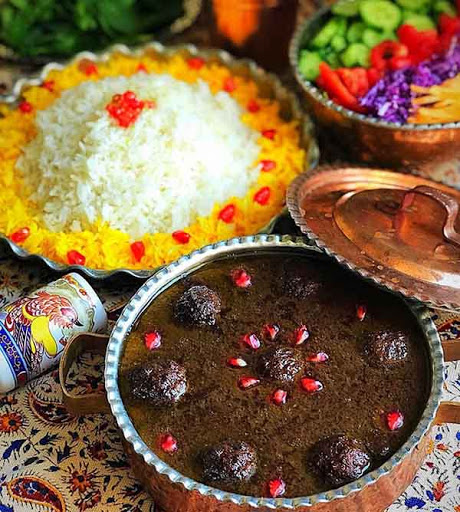 Despite of having the name of khoresht(Stew), you can see it in the list of Iranian stews.
It is a sweet dessert and is served as a side dish.
The ingredients are yogurt, lamb neck, saffron and sugar. You can find khoresht e- mast in the majority of Isfahan restaurants because it is a typical dish of Isfahan. This yummy bright yellow
sweet dessert is designed with sliced pistachios and barberries on top.