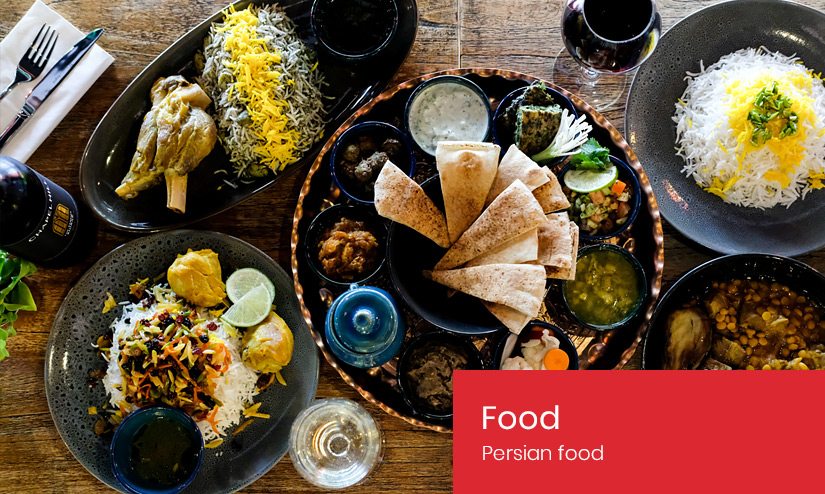 Iran family dinner and experiencing the real taste of Iranian cuisine during your tour in Iran make an unforgettable experience.
1- Experiencing the living environment of an Iranian family.
2-Learning to cook some Iranian dishes.
All happened in Iran Family dinner tour.
Our Iran family dinner tour includes Various kinds of dishes and delights appropriate to fulfill any tastes including vegetarians.
Our tours provide you with the opportunity to explore Shiraz city and in the evening join Iran family dinner and taste Persian food.
Iranian cuisine is comprises of healthy, organic food, giving rise to aromatic, tasty dishes.
Among these dishes, some enjoy world fame.
For example Kebab, Gormeh Sabzi (green herb stew), Fesenjan (Pomegranate Walnut Stew), Ash e Reshte (Noodle and Bean Soup), Abgoosht (Lamb Chickpea Soup), Tahchin (Rice Cake), Kufteh (Meatball with Rics), and many others.
These dishes are also accompanied by different traditional drinks and desserts, such as Doogh (yogurt drink, known as Ayran in Turkey), Mast (yogurt) and Sabzi khordan (vegetables).
But, what makes Iran family dinner exciting and makes these dishes more tasty and delicious, is Iranian Hospitality. Iranians consider their guests friends of God and are very welcoming and kind to those who step into their houses.
In our Iran family dinner tour, you can spend one night in an Iranian family and experience both the sweet environment of Iranian families and the delicious taste of Iranian dishes.
Package Description :
A pleasant Iran family dinner with an Iranian Family will make you familiar with Iranian habits and traditions of eating.
What to Expect
Iranian Home, Iranian Home-made Dinner
In this tour, we will take you to the house of an Iranian family to have dinner with them. There, you can sit and chat and have pleasant moments with your hosts.
Also, you will listen to Iranian music and be presented with some different Iranian dishes to have as your dinner.
However, if you are interested in learning Iranian recipes, you can join the lady of the house to learn methods and tricks to cook Persian food. After dinner, you can help the house lady to clean the table.
Finally, you will be served with Iranian tea.
This experience is a true authentic dive into the Persian culture while learning about the lifestyle and daily routines.
During this three-hour tour, (Iran Family Tour) you dine with a Persian family in their home, having the opportunity to have a cultural exchange and get to know how they spend their life as a local.
The tour starts with your arrival at their home and has a welcome drink, tea, or a local beverage. Then you spend some time while dinner is ready and you can socialize with the family.
The food will start with an appetizer. All the meals are Iranian local food, however, you can ask for customization depending on your favorite tastes.
The main course and desserts are also served along with side dishes like yogurt, salad, and olive.
It starts from 06:00p.m to 09p.m:00.
By booking Iran family tours, you provide a great chance to get introduced to new tastes and recipes.
So, do not miss the chance to taste all these cuisines. The new tastes are complementary to all other experiences you have in beautiful Iran.
What's Included?
1-Transportation
2-Welcome drink
3-Fresh fruits
4-Meals (Dinner)
5-Persian dessert
6-Tour Guide
Sample Menu:
Ghormeh Sabzi
Ghorme Sabzi (ghorme sabzi,qormeh sabzi) is a popular stew in Iran, the land of delicious foods. The savory, tasty, and yummy stew is made up of a mixture of fresh herbs such as parsley, cilantro which are usually fried before being cooked with other ingredients like beans, onions, lamb, or meat, and of course, black lime that is originated from the Persian Gulf and gives a unique taste to the stew.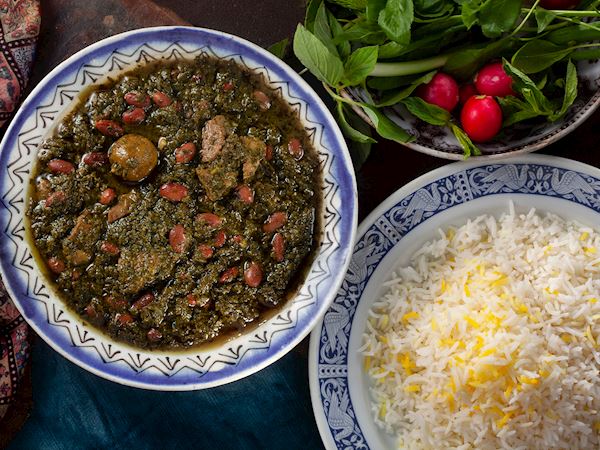 Never ever forget to try tahdig (crunchy rice) when travelling to Iran. It is mostly served with rice and stew.
Gheimeh
Gheimeh is a very famous Persian food, called yellow split peas stew in English, refers to a mysterious mix of cubed meat, split meats, extract of tomato, fried onions, and spices such as salt, pepper, ground cardamom, turmeric, garnished with fried potato and saffron that really makes it mouth-watering and tasty. Also, it is famous as a religious food, especially in Ashura distributed among ordinary people or poor ones.
Zereshk – Polo
One of the most popular dishes of Persian cuisine, a good combination of saffron, turmeric, and fried dried barberries on the top of the served dish. Saffron is like a miracle in all Iranian food and of course in Zereshk-Polo (dried barberry with rice).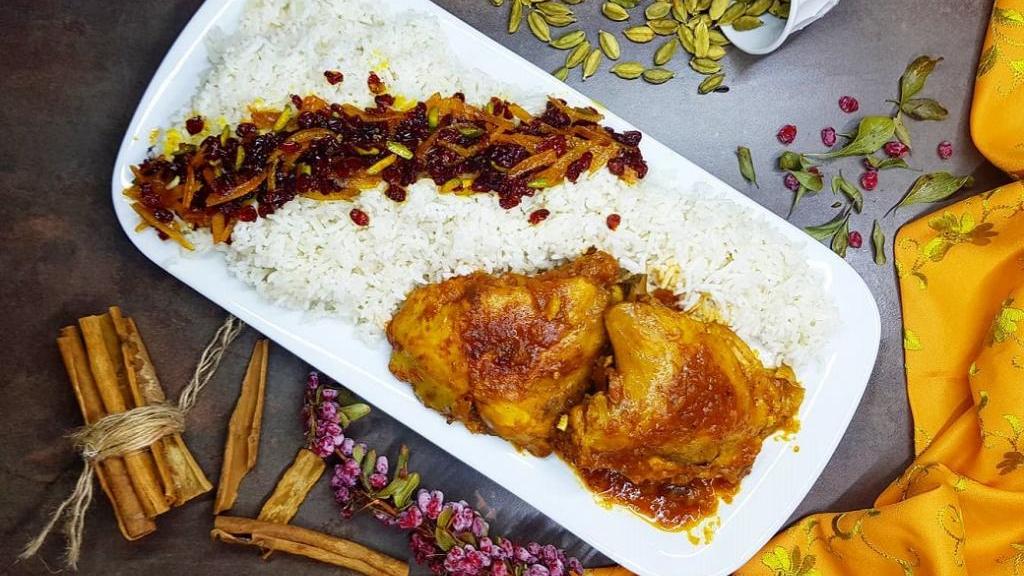 Kalam Polo
Fars province is one of the historical provinces of Iran, which is best-known for the unique civilization and extraordinary monuments.
Shiraz has been the capital of Fars from past to present and therefore, it embraces many traditional, local and delicious foods reflecting a part of climate, culture, custom and the lifestyle of the people in this region.
Kalam polo is one of these Iranian traditional foods cooked in most Iranian families but with a completely different taste in Fars province from the other regions of the country.
Its smell and taste is exceptionally pleasant because of having different local vegetables.
Spending so much time and being patience is the necessary condition for cooking Kalam Polo. Rice, kohlrabi, vegetables (tarragon, dill, basil and leek), minced meat and chickpea flour are the ingredients of this food.
Meatball (minced meat with chickpea flour and onion fried in the form of tiny balls), chopped and cooked kohlrabi are usually added to Polo. This original and delicious food is usually served with yogurt and vegetables.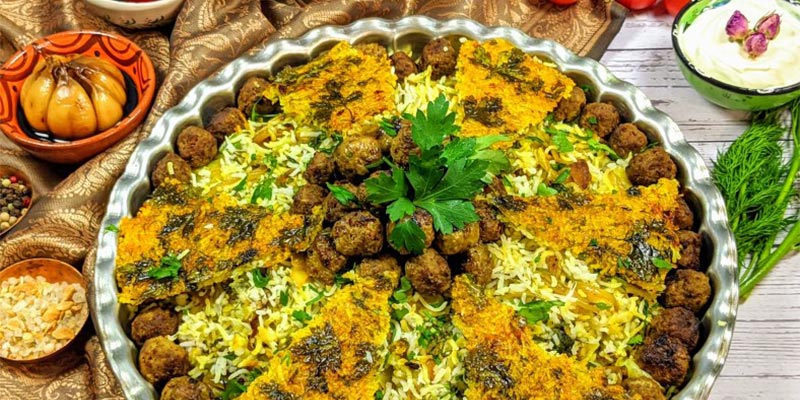 Khoresht-e Bademjan ( Eggplant Stew)
Many dishes in Iran are prepared with eggplant. khoresht-e bademjan is the most popular one. The main ingredients are lamb meat, fried eggplant, onion, tomato sauce, and spices Lemon is also added to this stew because Iranian people mostly prefer the sour taste of all kinds of stew.
Vegetarian meals are available too :
Khoresht-e Mast ( Yogurt Stew)
Despite of having the name of khoresht(Stew), you can see it in the list of Iranian stews.
It is a sweet dessert and is served as a side dish.
The ingredients are yogurt, lamb neck, saffron and sugar. You can find khoresht e- mast in the majority of Isfahan restaurants because it is a typical dish of Isfahan. This yummy bright yellow, sweet dessert is designed with sliced pistachios and barberries on top.
Ash
"Ash" another food which is mostly served in cold months of the year has remedial effects on the body.
Then, do not hesitate to try it for its taste and also for its health benefits.
Ash as a traditional food in Iran not only is delicious, but also it is very useful for the body.
The fresh vegetables used in the food give you a lot of vitamins and the food is a nutritious source as you need.
The extraordinary healing power of the food makes you energetic. All ingredients used in the food like chickpeas, lentils, and beans are great sources of protein and fiber.
Iran family dinner tour presents a wide range of mouth-watering Ash such as yogurt Ash, plum Ash, Doogh Ash, Tarkhine Ash mostly in the west of Iran, tomato Ash, pomegranate Ash, sour Ash, rampion Ash, and some other delicious Ash that the fact shows the variety of Iranian culinary art Some restaurants in different cities serve mostly Reshte and Doogh Ash.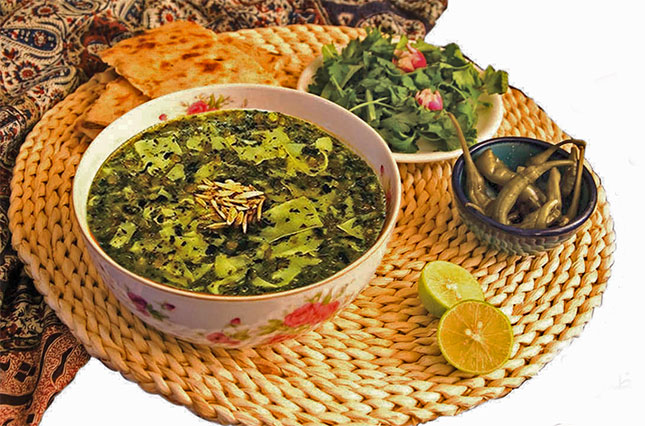 Koukou Sibzamini – Iranian potato croquettes
Koukou Sibzamini is a sort of Iranian potato omelet quite similar to a Spanish tortilla, with onions and spices (saffron, turmeric, curry) to your tastes.
If you like egg-based dish, check out all the different sorts of Koukou that exist in Iran and try the green version of this recipe: Koukou Sabzi (with fresh herbs).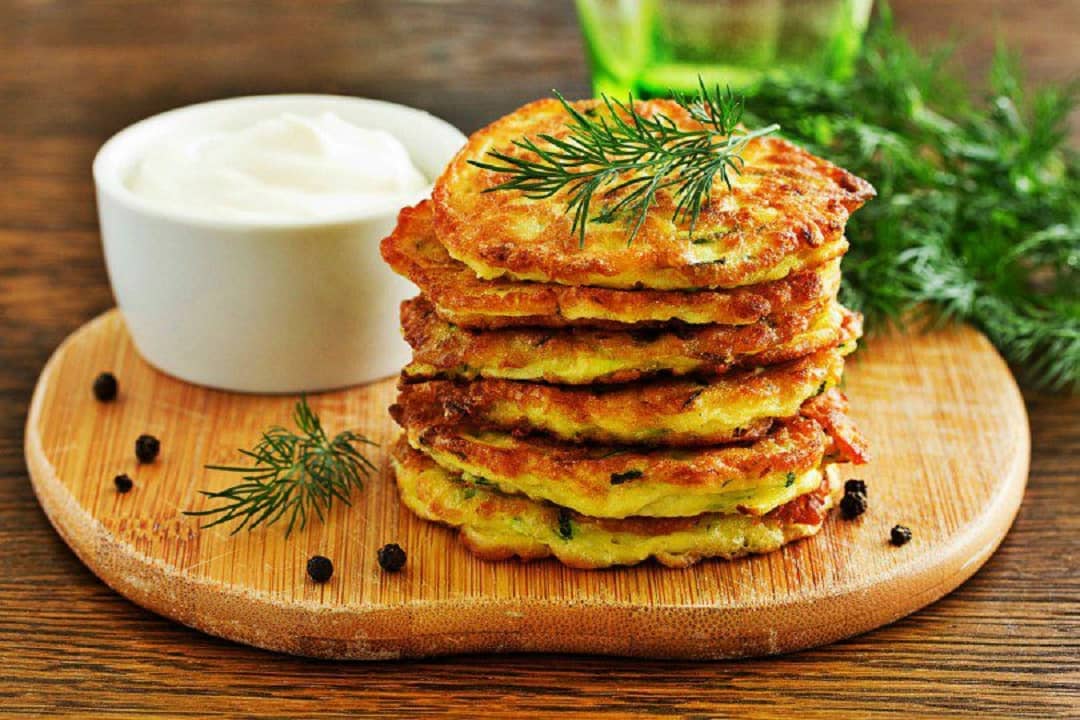 Kashke Bademjan
The traditional recipe for Kashke Bademjan is to cook the vegetables separately: eggplant, onion and garlic. Then, mash the eggplant with a fork and stir it with the garlic, onion and kashke (or Greek yogurt if you can't find a Kashke).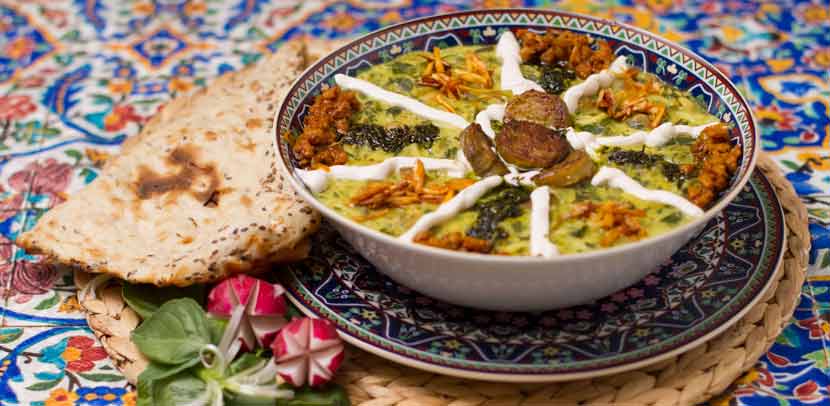 Dopiazeh Aloo
DoPiyazeh Aloo is one of the most delicious local foods in Shiraz, It is used to boil potatoes, chop the skin off into small pieces after cooking, and mix with fried onion and tomato or tomato Sauce.
Some also cook two chops with meat. Usually, we serve it with bread. Be our guest in Shiraz to eat this food. This food is popular in Shiraz.

Iranian Dessert:
Some ingredients like saffron, rose water, cinnamon, and pistachio are the highlights of Persian desserts. There are a few desserts you can mostly find in different restaurants such as Ranginak (date and walnut), Shole-Zard (saffron rice pudding), Iranian Halva, Bastani (Iranian ice cream), Faloodeh Shirazi (rice noodles), different kinds of cakes and also Zoolbia and bamieh which are mostly available during the month of Ramadan.
Persian Drinks and Beverages:
Various kinds of non-alcoholic drinks are common among Iranian people such as soda, coke, Pepsi, fruit juice, Islamic beer, and much more. Some of them are originally from Iran like Sharbat and Aragh which are in different tastes and a must-try Persian beverage during Summer times.
Aragh or Arak is extracted from simple plants such as Eglantine, Rose and Meant. Arak also can be mixed with herbal seeds. Based on the medical articles, the positive effects of Arak on the body is more than the plant itself.
Another majestic Persian drink is Doogh, the white sour and salty drink. Don not hesitate to try it after Kebab, get relaxed and sleepy with drinking a bottle of Doogh with dried mint.